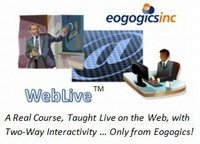 "Why don't you offer online classes on emerging telecom technologies, so those of us who're too busy to travel to public classes can keep up with the industry?" asked a fellow telecom exec in a recent conversation. "Aren't there plenty of companies already offering free webinars?" I asked. "Yeah, but it's not training. They're all selling something: hardware, software, tools, or whatever" he countered.
I realized he had a point. So I called our curriculum and marketing guys to a huddle in my office and gave them the marching orders: "Come up with a curriculum that covers only the dozen or so topics that everyone in telecom must know or perish; offers good, vendor-agnostic training, no sales pitch; requires less than three hours at a time, so one could get some work done along with the training; and adds up to no more than eight days if someone decides to take every one of these courses, and if these are "know or perish" topics, they may well need to sign up for all of them." "And, by the way", I added, "no e-learning. We want to offer real training courses taught by real instructors, the same who teach our popular onsite classes." And, looking sideways at our marketing guys, I said, "We also need to make these courses so affordable that anyone can attend, whether his/her employer is paying for the training or not."
Well, that was three months back! Today, I'm happy to say, we're unveiling a schedule of public WebLive™ classes that resulted from this challenge. First, what's "public WebLive™ classes"? The "public" here means that even an individual can sign up for a class; you need not have a group to be trained, though groups can take advantage of our 50% off offer. The "WebLive™" refers to the fact that these classes are taught by real people in real time on the World Wide Web, that is they are not taped lessons or e-learning. They are taught by professional trainers (who also happen to be practicing engineers and consultants), not by marketers. Yes, you can talk to and see the instructor, and he can talk back to you. If you have a webcam, he can see you, too!
So what topics does this series of public WebLive™ classes cover? Things you must know about the evolving state-of-the-art if you intend to continue working in telecom — instead of being replaced by someone more up on the state-of-the-art than you are. There was probably a more tactful way to say that, but you get the point.  Included are the three megatrends now affecting our industry: the evolution of the core network to all-IP architecture, upgrade of the wireless networks to 3G LTE/4G and WiMAX, and Fixed Mobile Convergence (FMC). It's these megatrends that are the focus of our WebLive™ course line-up. This translates into topic such as: Next Generation Network (NGN), MPLS backbone, technologies that enable multimedia applications (SIP, IMS), IPTV, and Everything over IP (EoIP), of which Voice over IP (VoIP) is a special case. Also, on the wireless side: 4G technologies and services, technologies that enable 4G (OFDM, MIMO, Software Defined Radios), 3G LTE (overview, technical) and WiMAX (overview, technical).
All courses are taught in half-day sessions. Some courses, designed as quickie overviews for busy professionals and managers, are exactly one half day long. Others, intended to be "technical deep dives", are one day long, but taught in two half day sessions held on consecutive days. The whole schedule is so structured that you can take a few courses or take them all.
The course fees are quite modest, $295 for a half-day course and $495 for a full day course. (Compare that to the $700-1,000 per day cost of a public seminar, not to mention the travel cost.) You can make a good deal even better when you buy packages of related courses or sign up for courses totaling at least $1,000. And, as earlier mentioned, companies can train large groups of 5+ employees by taking advantage of our 50% group discount. All this is nicely laid out on our Public Classes page, where you can sign up as well. At these prices, I don't see us making a profit on this venture, but we wanted to make an affordable set of quality courses widely accessible at a time when many people are facing reduced training prospects due to budgetary cut-backs or unemployment. We thought that this was a gesture that just might pay back in increased onsite training orders when the economy is back on track and the training budgets are more plentiful. Enough said! Check out the offerings at www.eogogics.me/classes By the way, if you have any suggestions on how we can make this program better, drop me a line. You can email me at prez@eogogics.com See you in class!