WebLive™: Real Classes, in Real Time, by Real Instructors
Not Enough Trainees to Hold a Cost-Effective Onsite Class at Your Offices?
Consider a WebLive™ class!
For a small group (5+), we can schedule WebLive™ classes on
demand!
If you have fewer than seven people to be trained, WebLive™ classes offer an affordable alternative to onsite training.  As customized and interactive as our onsite classes, they are taught by the same instructors who teach onsite.  As with onsite training, you save on the travel downtime and expense. There's also a benefit unique to WebLive™:  You can schedule a multi-day class as a series of half-day sessions, allowing you to get some work done along with the training.
To Request a WebLive™ Class,
Call Us Today at 1 888 364 6442
(or +1 703 281 3525).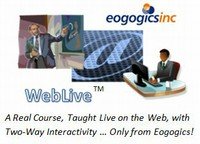 What's a WebLive™ Class?
First, what it's not: It's NOT an e-learning, pre-recorded, or self-study course. It's a live class taught in real time by real instructors.  Only, it's taught on the World Wide Web. Hence, WebLive™!
Click here for a FREE preview of a WebLive™ class.
How Is a WebLive™ Class Taught?
You "meet" with the instructor and other class participants in a "virtual classroom" on our website. The classroom looks much like a real classroom, with a projection screen and white board. You can see and hear the instructor. He can hear you and, if you have a webcam, see you as well.  You can raise your hand, ask a question, share computer applications, engage in discussion with your classmates, participate in a virtual lab, take a test, provide feedback, and much more.  And, as with an onsite class, if you complete all of the classwork, you will receive an attractive course certificate by mail, shipped at our expense.
How Can I Request a WebLive™ Class?
If you have a group of five or more people interested in a WebLive™ class, call us or email us the topic of interest (include the course codes listed on our website), when you would like the class taught, and the number of people in your group.  We will contact you to discuss the course content and scheduling details.  After you have paid for the class with a major credit card, your group members will receive the web links that will allow them to attend the class.
To Request a WebLive™ Class, Call Us Today at 1 888 364 6442 (or +1 703 281 3525).  Or Email Us!