Program Package Includes Hands-on Workshop, Textbook, Videos, Podcasts, Consultation, and More
Press Release
For educational and fun resources on creativity, visit the Eogogics Creativity Resource Center for the media and public
For Immediate Release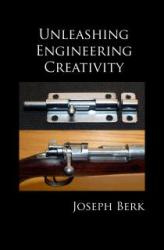 Washington, DC, March 5, 2013 – Eogogics Inc, a technology training and services leader, today released a comprehensive creativity development program aimed at engineers, scientists, and business/process developers. Product of extensive R&D and testing, it's believed to be the only program of its kind in the market.  Unleashing Engineering Creativity, a hands-on workshop which is the program's centerpiece, teaches powerful creativity stimulation techniques to design or improve products, processes, services, or offerings. The Unleashing Engineering Creativity book, part of the Workshop but also sold separately, is written by Joseph H. Berk, Eogogics Principal Faculty, who will lead a free mini-workshop on the application of creativity techniques live on the Web on April 25 (Noon, ET).  Eogogics will periodically publish videos on its website featuring interviews with technology executives on how they tackle their creativity challenges.
"Unlike the 'softer' creativity courses now on the market, we wanted to offer a hard-hitting program developed and taught by and for engineers and scientists," said KK Arora , the Eogogics President. Dorin Balcan, Director of Engineering at Zebra Technologies, a leading specialty printer maker that recently hosted this Workshop, agreed, adding "Creativity is at the root of what we do as design engineers. We were looking for a creativity workshop that was state-of-the-art, aimed at technical folks, application-focused, and taught by a subject matter expert. This Workshop will go a long way in helping us master the art and science of inventing."
Joe Berk, the Eogogics instructional lead for this Workshop, states that even those who are paid to be creative often need help in this area.  "Research indicates that most people lose most of their natural creativity by the time they finish school," says Berk . "Starting with grade school, where we're taught to stay between the lines, we're subjected to a multitude of rules and requirements that stifle our creative spirit.  It gets only worse when we become engineers, for now our focus is primarily on "designing to specs".  Our youthful natural creativity can be re-kindled, though, through the use of techniques taught in our hand-on and fun Workshop," says Berk.
Creativity Program details are available at www.eogogics.com/creativity. To raise awareness of creativity enhancement techniques, Eogogics is also organizing an engineering design contest ( www.eogogics.com/create-contest ) as well as an Unleashing Engineering Creativity book give-away. For members of the media or public interested in learning more about technical creativity, Eogogics has created a webpage that offers a host of free and fun educational resources on creativity, including a podcast: www.eogogics.com/pod1 Science/technology industry leaders and others interested in learning techniques that can produce breakthroughs instead of incremental improvements that are the norm may register for the free 1-hour, live web course at www.eogogics.com/wl13-create-signup
For additional Information:
KK Arora, President, Eogogics Inc, +1.703.539.5329, kk@eogogics.com
About Eogogics Inc:
Eogogics Inc, headquartered near Washington, D.C., is high-tech industry's premier source of training and consulting services. Eogogics leadership has been involved in "first of a given technology" projects worldwide since 1991. With 500+ courses and subject matter expert instructors/consultants that average 15-30 years of experience, Eogogics expertise is unmatched in breadth or depth. Industry recognized, Eogogics is a sole-source or preferred training provide for well-known companies, federal and state agencies, and trade associations.
Eogogics® is a registered US trademark and Gogics™ is a service mark of Eogogics Inc.
Keywords:
Technical creativity, engineering creativity, scientific creativity, creativity stimulation techniques, creativity course, creativity workshop, creativity book, creativity videos, creativity webinar, creativity web class, creativity podcast, creativity development program, Unleashing Engineering Creativity book, creativity interviews, free creativity resources, Joe Berk, KK Arora, Eogogics Inc, Eogogics