Ron Bellavich
Principal Member, Telecommunications Faculty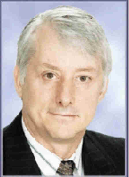 Ron Bellavich
Ron Bellavich, a Principal Member of the Eogogics Telecommunications faculty, offers 12 years of university and corporate training and consulting experience combined with 25+ years of hands-on engineering experience.
His training repertoire includes a wide range of courses including LTE/4G, WiMAX, 3G Systems, GSM and CDMA, WiFi Mesh Networks, LANs/WANs, RF Planning, Antennas and Propagation, Satellite Communications, Transmission Systems, ATM, Data communications, and Traffic Engineering.  Most recently, Ron authored the WiMAX Forum's "RF Network Engineer" Certification Course, the Cisco "WiFi Mesh Design" Certification Course, and "LTE RF System Design" course.  Prior to joining Eogogics, he taught or developed courses for TRA, Lucent, Avaya, Nextel, Bellsouth, DeVry Technical University and others.
His most recent corporate position included six years as a Principal Engineer with COMSAT-RSI, where he worked on the development of equipment and techniques for ATM over satellite.  As a member of their Ka Band committee he evaluated technologies for the next generation of communications satellites.  He has also worked for eight years as an Earth Station Engineer with RCA Americom, three years as the Chief Engineer with Atlantic Radiotelephone, and four years with AT&T Long Lines.
His long and multi-faceted telecommunications engineering career has equipped him with extensive telecommunications knowledge designing, analyzing, dimensioning, provisioning, and implementing a large variety of telecom systems worldwide using a variety of protocols and platforms for transport over a variety of media.  His primary area of expertise is radio system design and analysis, from HF radio to EHF M/W and everything in between.
Ron has a Master of Science in Telecommunications from Barry University.  He holds a number of certifications including CCNA, FCC 1st Class License, and WiMAX Certified RF Engineer. He is a long time member of IEEE, NPA and NARTE.