Eogogics Africa: Get World Class Training at Reduced Rates
Eogogics team has been at the forefront of the global telecom network roll-out for 25+ years. No wonder then that our instructors are among the most dynamic and experienced found anywhere. In addition to public and on-demand WebLive™ classes, we also offer research publications, consulting services, and onsite classes at client offices worldwide. And now, by joining the Eogogics Africa program, you can take advantage of our industry leading knowledge services at substantial discounts available only to Africans.
Useful Links:  Eogogics Home     More about Eogogics      Eogogics Brochure    Eogogics Congo Brochure
What Is "Eogogics Africa" and What Benefits Does It Offer?  It is an Eogogics Inc initiative to make its world renowned programs available to Africa-based individuals and organizations at a substantial discount.  As a member you will receive 20% off on the WebLive™ Public classes as well as special reduced rates on WebLive™ On Demand classes, Onsite training, and other services.
What Does the Membership Cost and How Can I Join?  It costs nothing to join; simply complete and submit the Eogogics Africa Subscription Form, then look out for the email welcoming you to the program. It will contain a special coupon code you can use to obtain 20% discount on the Eogogics WebLive™ Public classes.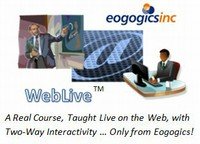 What Is a WebLive™ Class:  First, what it's not: It's NOT an e-learning, pre-recorded, or self-study course. It's a live class taught in real time.  It puts you "face to face" with the instructor without the travel expense. You "meet" with the instructor and fellow participants in a "virtual classroom". You can see and hear the instructor; he can hear you and, if you have a webcam, see you also. You can watch him present Power Point or write on the whiteboard, raise your hand, ask a question, share computer applications, engage in discussion with your classmates, work in a virtual lab, take a test, provide feedback, and much more.
What Is WebLive™ Public?  From time to time, we offer a series of WebLive™classes that are open to individuals. The Sept-Nov 2009 schedule includes classes on all that's hot in the information/communications industry: WiMAX, 4G LTE, OFDM, MIMO, Software Defined Radios, Next Gen Network (NGN), Fixed Mobile Convergence, IMS, SIP, MPLS, EoIP, VoIP, and more.  If you are a telecom or IT engineer or manager, don't miss this opportunity to attend cutting-edge classes at 50% off for groups and 20% off for individuals based in Africa.
How Can I Register for WebLive™ Public Classes at 20% off for Individuals? First, complete and submit the Eogogics Africa Subscription Form.  Make note of the  coupon code included in your welcome email. Now go to our WebLive™ Public schedule and registration page  and register for any number of courses of your choice.  Note that the class schedule lists our regular prices: $495 for full-day and $295 for half-day courses. However, you will pay $396 for full-day and $236 for  half-day classes.  To get this discount, simply enter your Eogogics Africa coupon code when requested during the online check-out process, and your total purchase price will be automatically reduced by 20%.
How Can I Take Advantage of the 50% Discount for Groups on WebLive™ Public Classes?  If you have a group of 5 or more who can take a class from a single IP address (by using a large screen monitor), first visit the WebLive™ Public schedule and registration page to identify the classes of interest to you. Then visit this page to email us your registration request: https://eogogics.com/c/09/5-attendees

WebLive™ On Demand:  Don't see the topic of your interest in the public class schedule? We can schedule a special class just for your group at an Africa-only discount. To request a special class, email africa@eogogics.com describing the topic of interest, your city and country, the number of people to be trained (must be 10 or more), and when the class is desired.  To receive the Africa-only discount you must have signed up as an Eogogics Africa member.
Onsite Training:  If your organization has at least 15-20 persons to be trained, we can hold a class, customized to the backgrounds and needs of your employees, at your own offices. The class will be taught by the Eogogics subject matter expert closest to your location. You will pay for the teaching fees at special Eogogics Africa rates and for the instructor's travel. Send your request for such classes to Africa@eogogics.com mentioning your city and country, the number of people to be trained (must be 15+), the topic of interest, and when the class is desired. To receive the discounted rates, you must be a subscriber to Eogogics Africa.
What If I Have Other Questions or Concerns?:  Email us at africa@eogogics.com for a prompt
response.